3D Archery Tournament Sat. 13 & Sun. 14 May 2023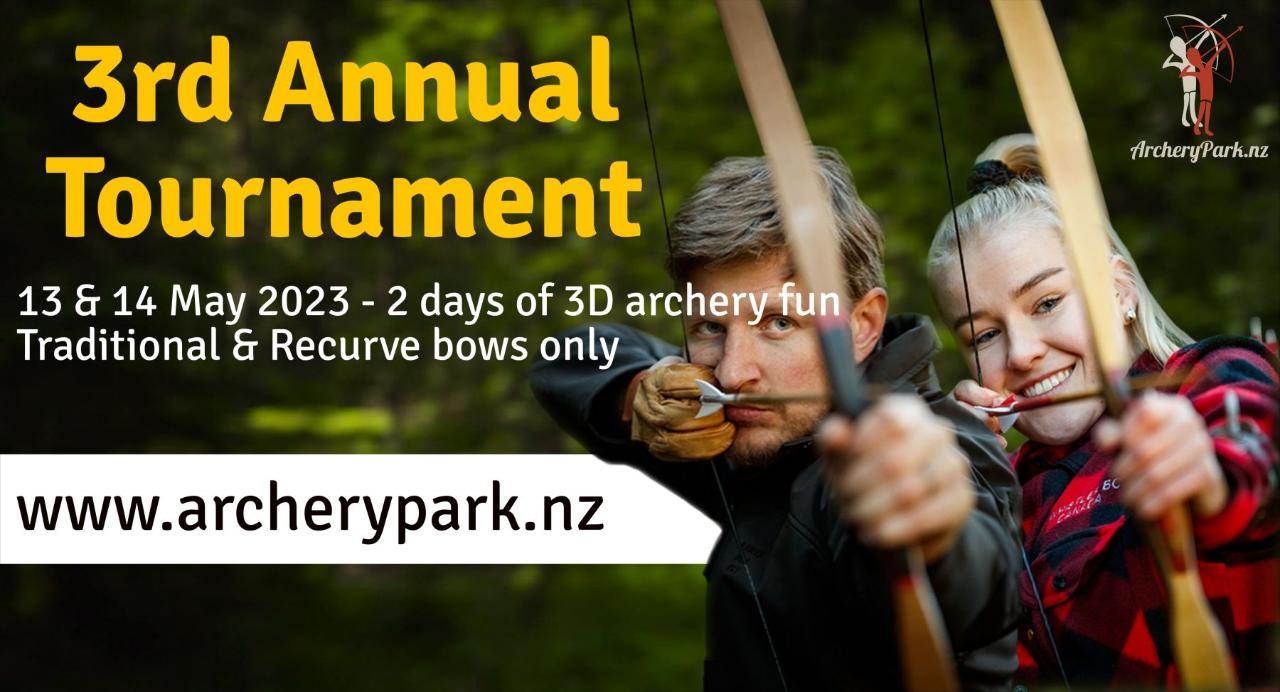 Duration: 2 Days (approx.)
Location: Nelson, Nelson
Join us for our 3rd public archery tournament at Archery Park Nelson!
The 2023s mission statement and T-Shirt are still in planning, but you can already reserve your spot!
We plan to have 2 * 3D courses setup. Saturday to be shot in our spectacular native forest and Sunday to be shot in the open. Traditional and recurve bows (no compound bows) allowed. Distances are not marked.
You will need your own archery equipment and know how to shoot. You don't need to know how a 3D tournament works, we will explain this on the day and it will also be clear from the score cards.

HOW TO BOOK
Select the amount of archers (Senior and Youth)

On the following page you can also book in for the feast ($25 p.P. drinks not included)

And you can get the official limited edition Tournament T-Shirt (must be ordered 2 weeks ahead, $39)
Current schedule (subject to change)
Saturday Day 1:

9.30am: Registration and bow inspection
10am: Welcome
10.30am: Tournament start.
4.30pm: Archers back at base
This part takes place in our permanent 3D course in the native forest and requires a fair bit of walking with some steep sections, so be prepared with good shoes, snacks, drinks and a 1st aid kit. This is a 3 arrow round and will be scored in 3 zones. We plan to have 20 * 3D targets up.
Note: Please carry your own lunch and water as you will most likely be somewhere in the forest by the time you get hungry.
Saturday Feast (Optional)
The feast will be at the Adventure Park Cafe in form of a BBQ buffet. The Cafe is licensed and has a wide selection of refreshments and beer on tab (not included in the feast fee).

We have to book numbers on Monday 8 May - if you register later and want to join the feast please call 021 - 1878043 and I see what I can do for you!

Sunday Day 2:
9am: Welcome
9.30am: Tournament start.
This is currently planned to be a mandatory 2 arrow round with 10pts for the kill zone and 5 points for the body - both arrows to be marked. The course starts at the campsite. Hopefully we have a few specials as part of it.
12pm: Price Giving
Note: Please bring your own lunch as we're not sure about organising this yet. We aim to have tea and coffee facilities available. Changes will be announced.

Allowed archery equipment:
All bows except for compound bows

No crossbows

No broadheads or other hunting arrow points
Camping & Accommodation
We plan to arrange an area for archers with the fabulous Cable Bay Campground. Please call or email them and mention that you are booking for the Archery Tournament - 03 545 0003, camp@cablebayholidaypark.nz, https://cablebayholidaypark.nz/
More options can be fund here: https://cablebaynelson.nz/stay-cable-bay-nelson-accommodation-hotel-campground-bnb/
Late Entries:
Entries may be made on the day but late entries will be charged an extra $5 (adult $40 / junior $20).
Directions:
Archery Park Nelson is on the Cable Bay Adventure Park land. Drive to 194 Cable Bay Nelson until you see the Adventure Park signs. Enter the car park and follow the signs to the Archery Tournament Parking area. Please don't exceed 10km/h within the park, all other traffic has priority.
FAQs:
How many arrows do I need?
It depends on your shooting skills. Some stations will require up to 6 arrows, that will be the most intact arrows you need as you will retrieve arrows after each station before moving on. Plan for spares as there is generally some arrow loss in a tournament: we suggest that an experienced archers will be ok with 12 arrows, a beginner should bring a few more spares.

Do I need a quiver?
Yes, absolutely.

Footwear?
Sturdy tramping shoes are best.
Do I need to be an expert archer?
Absolutely not! You need to know how to use your bow as this is not the time for learning archery. But beginners often have a great time at our tournament as they can learn so much from others. You will find that people are very welcoming of beginners.
More info will follow as it becomes available. For any further questions email: tournament2023@archerypark.nz